Providing affordable and reliable traffic monitoring products through an innovative design and engineering approach using appropriate and up-to-date technologies.
RAKTEL 8020
Mikros Systems

(Pty) Ltd
RAKTEL 8020 is the latest in the Mikros Systems traffic data logger range.
The RAKTEL 8020 now has a new high performance straddle tetection algorithm.
RAKTEL 8020
The RAKTEL 8020 is a major upgrade from the RAKTEL 8010.
Upgrades entail amongst other:
Faster processor
New distributed processing interfaces
Down loadable firmware
On board flash data storage
High speed communication port
Supports mixed WIM sensor arrays
Has a new high performance straddle (coincidence) detection algorithm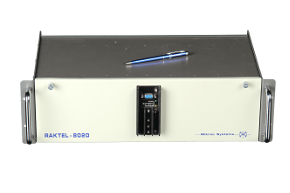 Image Gallery